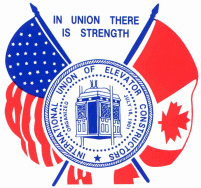 E

levator Constructors
install, maintain and repair electric, hydraulic, steam, belt, dumbwaiters, residence elevators, freight elevators
shuttles,automatic people movers, monorails, airport shuttles, vertical conveyers,escalators, moving stairways
and belt carrier.Elevator Constructors are also involved in electrical, mechanical and hoisting work.
Elevator Constructors were on the job on new construction and for modifications at multiple sites on Purdue campus this year.
Members participate in local United Way campaigns, among other community service efforts. The 165 members of Elevator Constructors 34 serve 57 Indiana counties.
Joe Albertson, Business Representative
Joseph DuPont, Organizer
2206 E. Werges Ave
Indianapolis, IN 46237
Phone: (317) 536-8173 Fax: (317) 217-1961
www.iuec34.org jpa196@aol.co